So today LO and I made the pilgrimage to the Outlets - to our favorite outlet - The Children's Place. :) See this time each year, wonderful winter clothes go on clearance - can you say, "Complete outfit for $1.98?" So I went on a little splurge and got 8 complete outfits (minus socks, tights and shoes) for under $48. Had I bought it all when it came out, I would have spent $235.00! Crazy!
So this is the stash we got for next winter: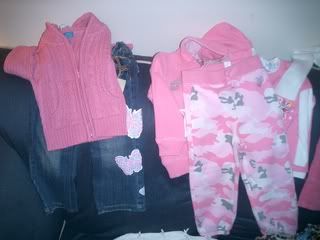 Jeans and sweater, and hoodie, sweatpants and shirt
two pants with matching tops
Red velor outfit (these are my favorite - $1.98 baby!) and jeans and top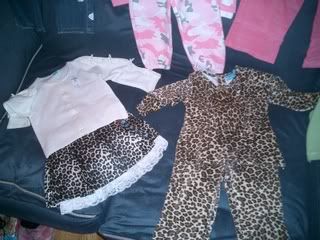 Another velor outfit and a possible holiday outfit (I like leopard - especially when it's cheap!)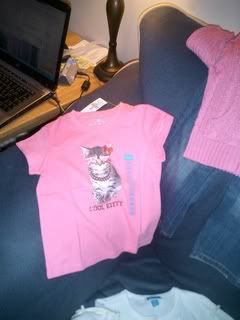 Oh and a kitty shirt b/c LO was so good in the store! :) It can also go under the first outfit.